By Yusuf Gadlin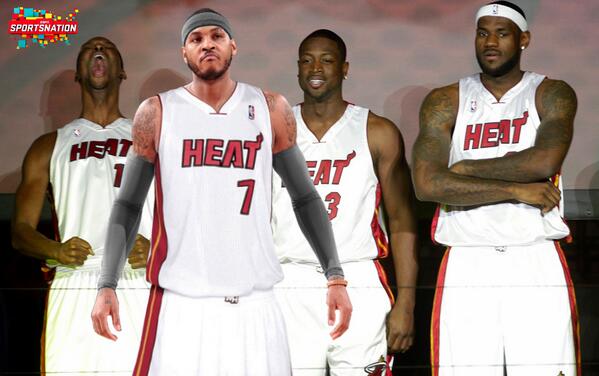 As soon as July 1 ,2014 strikes us there is a real possibility that NBA superstar Carmelo Anthony will join the Miami Heat. If Anthony makes this decision Miami will definitely become the most hated team in NBA history. Fans will not only purchase tickets to boo their lungs out but also in hopes that this super team takes major lumps on its way to an inevitable championship.
What Carmelo brings to Miami is simple: Points and points and more points. Carmelo has never been known as a defender and going to Miami will ensure he never has to play any during his tenure. Carmelo has a higher average of rebounds in 7 All-Star games (8.4) than he has in any of his past 12 years in the NBA regular season. Imagine that your star player gives his best effort to crash the boards in a game that means nothing. But if you take LeBron James, for example, who in 10 All-Star games averages 6.6 rebounds but has a higher rebounding average in the regular season in 11 of his 12 seasons.
The reason for that stat?
If 'Melo wants to win a championship in Miami it will take more than field goals made. Carmelo will have to sacrifice his game and concentrate on other things besides scoring such as defense and rebounding which have not been a strong point thus far in his career. But Carmelo did average 8.1 rebounds this year and it was a personal career high for him as he played like a man possessed for New York Knicks this year.
If Carmelo decides to join his good buddy LeBron in South Beach the Heat will definitely dominate the East for years to come due to the fact that there's a serious lack of talent in the eastern conference. The real test for the Heat is when they run up against a Western Conference power house team that plays physical and is accustomed to running up and down the hardwood for 48 minutes and one who plays ferocious defense and knows that their Wild Wild West is far more competitive than anything the Miami Heat will face all year. With the exception being that inevitable West Coast trip that will shine light on just how good the Heat can be when they face the likes of OKC, the Clippers, or the ruff-and-tuff Memphis Grizzlies.
The clock is ticking on Carmelo's decision. Either he will pick another team that will rise to championship contender with his presence or he will do the unfathomable and take his talents to South Beach and prepare to take 29 other teams best shot each and every night seemingly making his chase for that elusive championship ring harder than he ever imagined.