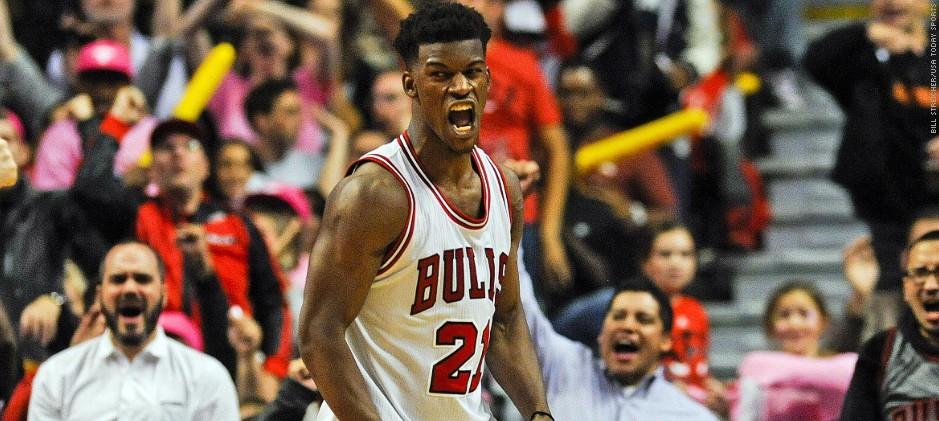 by Yusuf Gadlin
For the last couple of summers, or better yet, since Michael Jordan retired the Chicago Bulls have been searching for their shooting guard of the future.
Ladies  and gentlemen of Chicago I present to you Jimmy Butler.This preseason Butler has finally raised his game to another level. Jimmy Butler looks to have a consistent jumper, which is the only thing missing from his all round game.The 6'6 hard nose guard recently scored 20 points in the fourth quarter against the Atlanta Hawks drawing comparison to the  great Michael Jordan.
The evolution of Jimmy Butler comes at a time where The Bulls organization seeks to hammer out an extension for the now hot commodity known as Jimmy Buckets.The Bulls have until October 31 to sign Jimmy Butler to a extension or risk losing him as a restricted  free agent. The Bulls organization would be silly to let this hard-working guard hit the market and open themselves up to a poison pill deal; and, you know the one former Bulls center Omer Asik got from the Houston Rockets along the lines of 3yrs/$55 million.
While Butler has always been a hard worker and earned praise for his work ethic. I feel the Bulls front office have to see if this is the real Jimmy Butler as advertised. They have to see the evolution continue in the regular season, They have to see how long does Jimmy Butler go into a shooting slump doing the grueling 82-game schedule.
And the most important  factor his health, Butler recently suffered a sprained left thumb in a game against the Charlotte Hornets in the first quarter. Who knows if this will linger into the regular season as the bulls get ready to win a title for the City of Chicago.
Jimmy Butler has all the leverage right now either way he's getting paid next summer for the evolution that was supposed to happen last season.  All  the City of Chicago can do is wait and see how Butler plays on opening night against the New York Knicks:  Will he be inconsistent with his jump shot and blame it on a bad game with promises of consistency during the long, intense season or will we get the savior Chicago has been praying for since Michael Jordan left worthy of a healthy extension?